30-DAY MONEY-BACK GUARANTEE †
At HUBERTGEM.COM, your complete satisfaction is our unwavering commitment. When you choose to invest in a Hubert Jewel, you're embracing a legacy of quality craftsmanship and innovation. To underscore our dedication to your contentment, we proudly offer a 30-day satisfaction guarantee. †
We appreciate the significance of adorning yourself with jewelry that resonates deeply. If, for any reason, you find yourself less than enchanted with your purchase, rest assured that you can request a return within 30 days.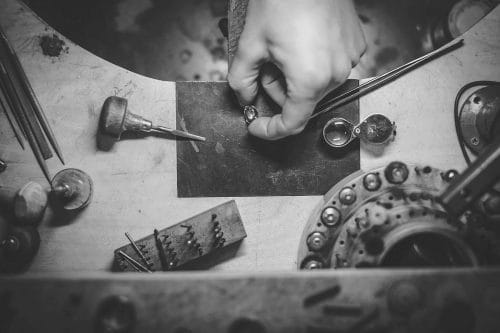 The vast majority of our jewelry is meticulously handcrafted within our Los Angeles studios, using only the finest materials. From precious platinum to resplendent gold alloys and a dazzling array of gemstones and diamonds that consistently exceed industry standards, our creations are forged from unexpected materials melded into inspired combinations, brimming with artistic vision and ingenuity.
From the initial sketch to the final masterpiece, we uphold the most exacting standards in fine jewelry craftsmanship. Unlike mass-produced counterparts, our jewelry is created with profound care and painstaking attention to detail. Through ethical and responsible sourcing, environmental stewardship, and unwavering support for our artisans, the result is jewelry that embodies luxury, distinction, and sheer brilliance.
Our jewelry designs are nothing short of works of art, featuring both rare and abundant gemstones. Whether an exquisite formal piece or an everyday treasure, we believe that jewelry should be a timeless reflection of the individual who wears it.
Top 5 reasons to choose HUBERT:
1. Exemplary Customer Service:
At Hubert, business transcends mere commerce—it's about family, community, and genuine connection. We approach our craft with passion and a commitment to serving you exceptionally. Our team works closely with the owners and is handpicked for their dedication to excellence, ensuring that you receive unparalleled service. Your trust and satisfaction fuel our reputation through word-of-mouth referrals.
2. Unparalleled Quality
When you seek genuine gemstones set in 14 or 18 karat gold, or even platinum, our family-owned jewelry business offers remarkable choices, including exclusive, one-of-a-kind treasures. Each piece is meticulously crafted with individual care and an unwavering eye for detail.
3. Diverse Selection
Explore our website and discover a vast array of styles, colors, and price ranges. One thing is certain: Hubert jewelry is never ordinary—it's an exploration of creativity and individuality.
4. In-House Jewelers – Crafted in the USA
The majority of our jewelry pieces are crafted in-house, right here in the USA. When it's time for resizing, servicing, or repair, you can trust us, the creators of your jewel, to handle it with unrivaled expertise and care.
5. Our Ironclad Guarantee
At Hubert, we stand resolutely behind our jewelry. Our 30-day warranty covers refunds, repairs and more. †
For more information, please refer to our terms and conditions page. If you have any inquiries or require further information, our dedicated team is always at your service.
Elevate your jewelry experience with Hubert—a testament to artistry, quality, and your unique story.