What's Included With My Purchase? †
Here's what is included with your online purchase:

FREE OVERNIGHT SHIPPING
We offer FREE SHIPPING via FedEx, UPS or USPS with your online order within the USA lower 48 states (Alaska and Hawaii will be eligible depending on the delivery address).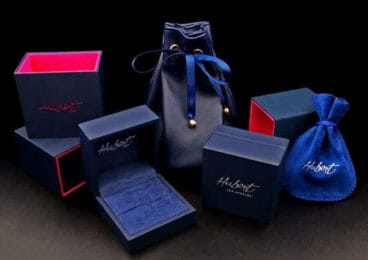 GIFT PACKAGING
Your beautiful jewelry will look even more special with Hubert's beautiful, elegant packaging, which needs no wrapping.
The jewelry will arrive in its proper jewelry box, flap folder or branded plush fabric packaging, ready to be gifted.
REPORT OF SALE & AUTHENTICITY
Every piece of jewelry purchased from us is eligible to our report of sale and authenticity. This document will state the retail replacement value of the jewel, along with the description of the piece, gemstones information, size and weights, precious metal and any other pertinent information. This report is the document that your insurance company or agency usually requires in the case of a theft, damage or loss.
The report will be provided upon request at not cost, within 12 months of the purchase.