30 DAYS MONEY BACK GUARANTEE †
Customer satisfaction is our number one priority. When purchasing from HUBERTGEM.COM, you are guaranteed to receive an original Hubert Jewel manufactured with the highest quality standards, along with a 30 day satisfaction guarantee.†
We understand the importance of inspecting and falling in love with jewelry. If you are not satisfied with your purchase, just request a return within 30 days.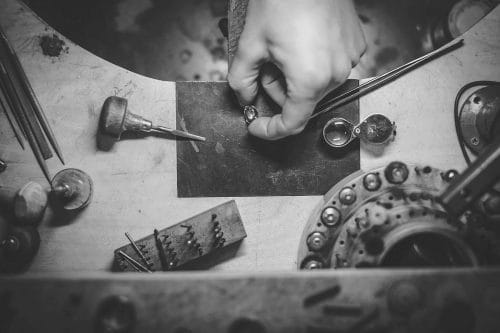 The vast majority of our jewelry is manufactured in our studios in Los Angeles, using the highest quality platinum, gold, alloy and other metals, along with gemstones and diamonds well above industry standard. Unexpected materials come together in inspired combinations, rich with inspiration and creativity.
Works of art, our jewelry designs offer very rare, as well as abundant gemstones. From formal to everyday pieces,  we believe that jewelry can be timeless, and our designs are as unique as the person wearing them.
From the first sketch to the finished jewelry, we abide by the highest standards in fine jewelry manufacturing. Our jewelry is not mass produced and is crafted with special care and attention to detail. .Through ethical and responsible mining and sourcing, care for the environment, and the artists that create these jewels, the result is jewelry that is luxurious, distinctive and Just Brilliant!
Top 5 reasons to buy from HUBERT:
1. Top-Notch Customer Service
At Hubert, business is about more than just business. Business is family, neighbors, and community. We are passionate about what we do and eager to serve you well. Our employees work closely with the owners and are hired for their commitments to excellence, which means you will receive stellar service. Our business  depends on word-of-mouth referrals and our customer service reflects that.
2. Superior Quality
If you are searching for a genuine gemstone set into 14 or 18 karat gold or even platinum, our family-owned jewelry business provide great options, including exclusive, unique and one-of-a-kind jewels. Each piece is individually made with care and attention to detail.
3. Great Selection
Browse through our website and see the vast assortment of styles, colors, and prices. One thing is certain: Hubert jewelry is never boring!
4. In-House Jewelers – Made in the USA
We manufacture the majority of our jewelry pieces in-house, right here in the USA. When it is time for sizing, service or repair, you can count on us, the manufacturer of your jewel, to care of it better than anyone else.
5. Our Guarantee
At Hubert we stand behind our jewelry. Our unconditional 30 day warranty covers refunds, repairs, free shipping, and more. †
For more information, please read our terms and conditions page and don't hesitate to contact us if you have any questions.