CITRINE
People have used quartz in jewelry for thousands of years. Egyptians gathered ornately striped agates from the shore and used them as talismans, the ancient Greeks carved rock crystal ornaments that glistened like permafrost, and the hands of Roman pontiffs bore rings set with huge purple amethysts. Natural citrine is rare, and today most citrine quartz is the result of heat treatment of amethyst quartz. Even so, gems from the Victorian era have surfaced, and it's not hard to imagine that citrine was treasured even in earlier times.
Citrine—the transparent, pale yellow to brownish orange variety of quartz—is rare in nature. In the days before modern gemology, its tawny color caused it to be confused with topaz. Citrine's attractive color, plus the durability and affordability it shares with most other quartzes, makes it the top-selling yellow-to-orange gem. It's an attractive alternative not only for topaz, but also for yellow sapphire. The finest citrine color is a saturated yellow to reddish orange free of brownish tints.
Since natural citrine is rare, most of the citrine on the market is the result of heat treatment, which causes some amethyst to change color from undesirable pale violet to an attractive yellow. The amethyst's original hue can determine the richness of the resulting citrine's yellow color.
Citrine crystals occur in a wide range of sizes, and citrine sizes up to 20 carats are readily available in jewelry. Although citrine is available in standard shapes and sizes, many high-end jewelry designers and gem carvers have fashioned the warm yellow gem into unusual cuts for jewelry and carvings.
TOPAZ
Many consumers know topaz as simply an inexpensive blue gem. They're surprised to learn that its blue color is hardly ever natural: It's almost always caused by treatment. They might also be surprised to know that topaz has so many more colors to offer gem lovers, including pinks and purples that rival the finest fancy sapphires.
Topaz is allochromatic, which means that its color is caused by impurity elements or defects in its crystal structure rather than by an element of its basic chemical composition. The element chromium causes natural pink, red, and violet-to-purple colors in topaz. Imperfections at the atomic level in topaz crystal structure can cause yellow, brown, and blue color. Brown is a common topaz color, and the gem is sometimes mistakenly called "smoky quartz."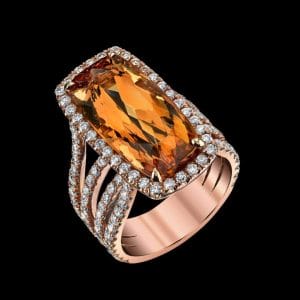 Topaz actually has an exceptionally wide color range that, besides brown, includes various tones and saturations of blue, green, yellow, orange, red, pink, and purple. Colorless topaz is plentiful, and is often treated to give it a blue color.
The color varieties are often identified simply by hue name—blue topaz, pink topaz, and so forth—but there are also a couple of special trade names. Imperial topaz is a medium reddish orange to orange-red. This is one of the gem's most expensive colors. Sherry topaz—named after the sherry wine—is a yellowish brown or brownish yellow to orange. Stones in this color range are often called precious topaz to help distinguish them from the similarly colored but less expensive citrine and smoky quartz.
Topaz is also pleochroic, meaning that the gem can show different colors in different crystal directions.
(From GIA)