Nestled in the vibrant heart of Los Angeles since 1988, Hubert embarked on a delightful journey sourcing the world's most enchanting and exquisite gemstones. His passion often led him to acquire raw materials, which he lovingly transformed in-house through cutting and polishing, revealing their innate beauty.
Later, tapping into his engineering finesse, Hubert ventured into crafting his own jewelry creations, each a testament to his vibrant and colorful gemstones. These creations are a symphony of beauty, defined by their bold, one-of-a-kind designs that artfully weave together a tapestry of gems and diamonds.
Our prime location, right across from Pershing Square, places us strategically within the bustling heart of downtown Los Angeles, in the renowned Jewelry District. Here, we embrace a wealth of resources and logistical support, effortlessly facilitating the manufacturing process and global shipping of our unique jewelry.
In stark contrast to major industry players, who prefer to distance themselves from gemstone sourcing and crafting, we take pride in a business model that bypasses traditional markups. Our exceptionally skilled in-house team of artisans, celebrated for their unparalleled craftsmanship, eliminates middlemen and third-party sourcing. Instead, we relish the art of handcrafting our products with the highest quality materials, ensuring that our offerings are not only distinctive but also kind to your wallet.
Our creative spirit extends beyond Hubert himself; he collaborates closely with his wife, Susan, and a dedicated team of designers. Furthermore, we welcome our clients into the creative fold, making their visions come to life in unique jewelry pieces that truly mirror their personalities. Our guiding philosophy demands unwavering dedication, time, effort, care, and craftsmanship from each team member involved in crafting every jewelry item.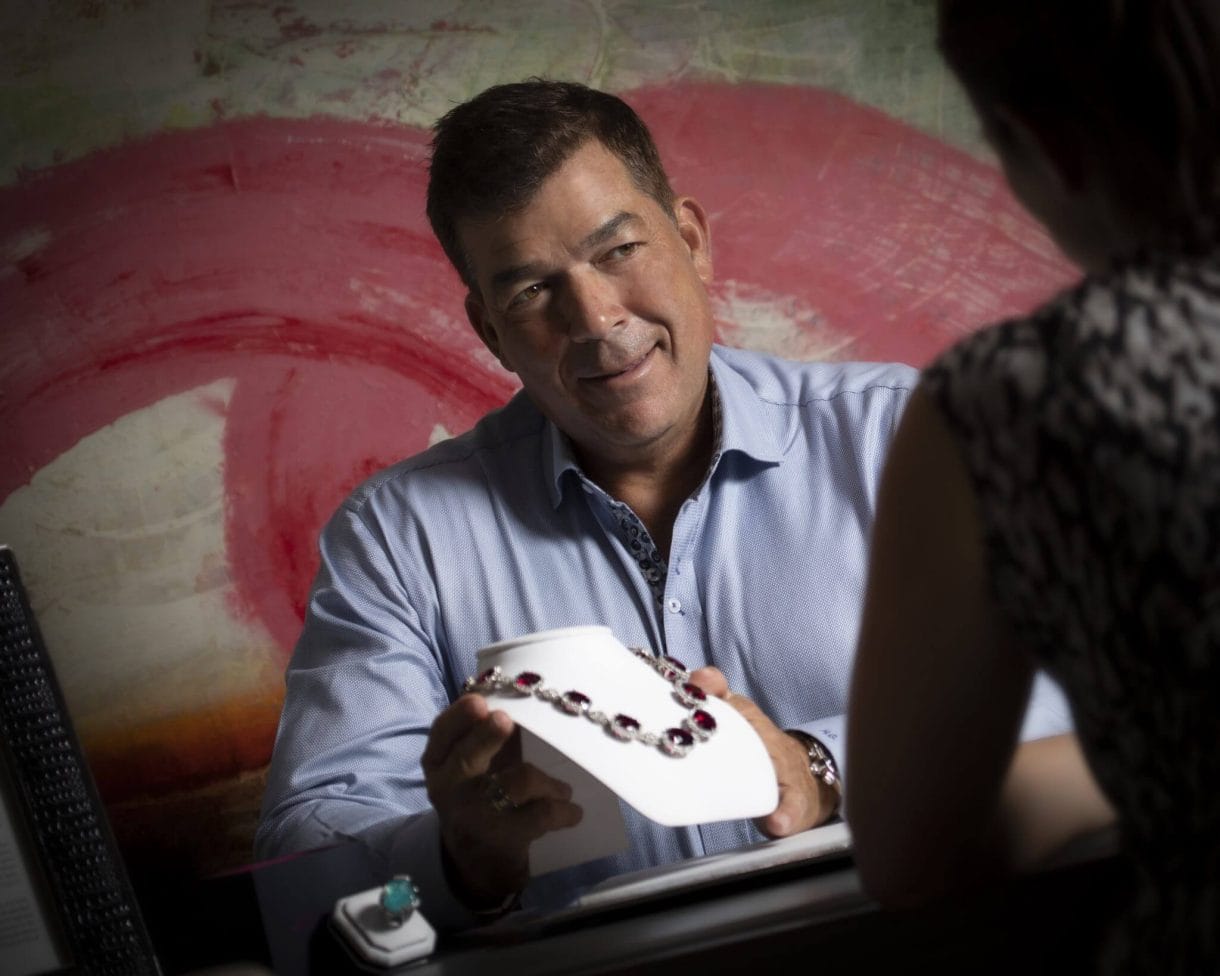 Even when Hubert is momentarily away, his watchful eye remains integral to our jewelry-making process. From casting to design refinement, each step undergoes meticulous scrutiny, with Hubert's final stamp of approval. Only when all elements align seamlessly do we move forward, adorning the design with the exquisite gemstones it was destined for, lovingly carried out by our master setters.
Following the delicate setting and meticulous polishing, the jewelry piece undergoes yet another tender review by the designer. If Hubert is not the designated designer, the piece faces his most exacting inspection standards. Failure to meet Hubert's discerning eye prompts a return to the drawing board.
A significant portion of Hubert's jewelry collection is proudly crafted in the United States. Our offerings encompass a wide spectrum, from women's jewelry items like rings, earrings, bracelets, pendants, and necklaces, to men's accessories such as rings, cufflinks, and tuxedo buttons. These pieces are lovingly adorned with fine gemstones, including diamonds, emeralds, sapphires, rubies, tourmalines, spinels, and morganites, among others.
Hubert's boundless wellspring of inspiration is drawn from the world around him, and our designers enjoy the creative freedom to produce jewelry that transcends convention. When combined with the unique visions of our discerning clients, the creative possibilities are boundless.
In essence, Hubert Gesser represents the zenith of innovation and craftsmanship, crafting jewelry that is both bold and daring, yet imbued with a unique brilliance that resonates with individuals who have a penchant for the extraordinary.
Hubert Jewelry is not just about creating beautiful jewelry. It is also about creating pieces that have meaning and significance for the people who wear them. Hubert believes that jewelry should be more than just an accessory. It should be a reflection of the wearer's personality and style.
When you choose Hubert Jewelry, you are choosing a piece of art that is made with love and care. You are also choosing a piece of jewelry that will be cherished for generations to come.
Welcome to HUBERT—where brilliance meets artistry with a friendly and inviting charm.